Welcome to Medley Auctions
With over 20 years experience in the auction industry, Medley Auctions has been conducting antique and estate auctions, 20th century auctions and French antique auctions throughout the GTHA, in Southern Ontario.
It can be overwhelming  at times, having a house full of stuff and not knowing where to start.  I can take that stress away.  I offer complete estate and downsizing services and make it easy.  I assess your situation and needs and recommend the best approach for selling your items, the best way possible, to get the best dollar for you at the lowest cost possible.  Learn more about Medley Auctions Services.
While most of our auctions are held at At Hume's Auction Farm, 9313 Esquising Line (4th Line) Milton, please be sure to check our auction listings and email notifications carefully, as there are occasions that some auctions may be held "on location." Please click here for directions.
WATCH FOR OUR LIVE & ONLINE AUCTIONS
Estate and Fine Art Auction
Saturday, March 3rd, 2018
Start time: 10:30 am.  Preview day of sale from 9:00 am
At Hume's Auction Farm
9313 Esquesing Line (4th line) Milton
Partial list to include:
Furnishings incl. 20's walnut china cabinet, Deco style 2 door bookcase, walnut drop front secretary Vict. sofas, nice flamed mah. Empire sofa, walnut hallstand, several side tables, plant stands, walnut vanity, 19th c. blanket box, ash washstand w/ harp, display cabinet, Deco ashtray stand; carved Chinese side table, mah. side table, etc., figural planters, bridge lamp w/ cranberry shade, floor lamps, hand woven area rugs, figural lamp; large collection of approx.. 30-40 Aladdin lamps incl. "Moonstone Vertique", red "Bee Hive" emerald green "Washington Drape", ruby red "Tall Lincoln Drape", white "Cathedral" w/ glass shade, jade green "Diamond Quilt" w/ glass shade, Aladdins w/ original paper shades, hanging lamps, and many more; more oil lamps incl. Gone with the Wind, hanging cranberry hall lamp, rare double hanging angle lamp, red satin glass Gone with the Wind, pair ice blue lamps, blue opalescent "Snowflake", "Sheldon Swirl" 2 colour lamps, "Princess Feather" and other clear patterned lamps, wall bracket angle lamp w/ ruby glass shade, large hanging lamp in ornate frame w/ h.p. shade, mini lamps, Bradley & Hubbard, and many more; Paintings by H.S. Palmer, G.A. Kulmala, L.T. Donges, G. Thomson, T.H. Wilkinson, A.C. Lapine, J.C. Colins, A. Lidstone, F. Thomson, M. Kallmeyer, M.F. Kousal, B. Morgan, T.M. Martin, G. Chavingnaud, R. Robertshaw, J.S. Gordon, Wride, Tygeson, Chandler, Hornyansky, and many others; Clocks incl. Jaeger Lecoultre 8 day Reuge alarm clock, Pequegnat "Chatham", "Jewel", "Ontario", and "Colonial", Deco figural mantle clock, Ansonia "Monterey" mantle, Ansonia porcelain French style porcelain mantle, Gingerbreads, round school house, banjo clock, Vienna Regulator, Cuck Coo, etc.; large collection of flow blue and early transferware incl. platters, handle less cups & saucers, numerous plates, flat soups, chamber pots, etc.; several dinner sets incl. Royal Doulton "Bell Heather" w/ serving pieces, Limoges, Wedgwood, Bavarian, Susie Cooper partial sets, et.al.; large assortment of cups & saucers incl. Aynsley, Paragon, Shelley, figural, R.C.D., etc.; numerous Royal Doulton figurines; Herend animals; Arabia Mid Century bird figure; Glass incl. several pieces of Lalique, Waterford crystal, Orrefors, Daum, Baccarat, Edenfalk, large selection of fine crystal, et.al.; Jewelry to incl. large selection of costume jewelry, various silver jewelry, etc. Fashion Accessories incl. Hermes and Liberty silk scarves, Hermes and other designer's men's silk ties, several vintage plastic purses, chain mesh purses, etc. Silver including Georg Jensen "Cactus" sugar tongs, silver vanity set w/ crystal bottles, large Birks sterling martini shaker, Tiffany & Co. bolt pill box, silver flatware and serving pieces, small bowls, et.al. silver plate platters and other serving pieces; Plus large Georg Jensen stainless flatware set; Alessi Michael Graves tea set; Zuni fetish carvings and necklaces; pens incl. Mont Blanc; folk art pieces; bronze Budhha; Deco jester bookends; old sports badges; Dora De Pedery Hunt bronze medallion; Hudson Bay blanket; Singer featherweight sewing machine; Leica Z2X camera and lens; Vijay Singh autographed golf bag; assortment of vintage golf balls; Paul Stanley autographed guitar mint in box; old riding tin horse and carriage; carved wood automaton; and much more..
Ladies and Gentlemen:  This is an excellent sale with a great variety of quality, unusual, and interesting items. 
Approx. 250 lots of this 500 plus lot sale can be bid live on line at Liveauctioneers: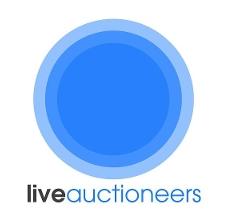 Terms: Cash, Visa, M/C, Interac. 13% Buyer's Premium 3% discount for cash and Interac payments.
For further sale or consignment information call:
Jon Medley Auctioneer 905-691-4991
www.medleyauctions.com  medleyauctions@hotmail.ca
Follow medleyauctions on Instagram, Twitter and Facebook!!
Preview of March 3rd 2019 Auction